Guide to Phoenix Breweries
Arizona's craft beer scene kicked into high gear in the 2010s, and the Phoenix area now boasts dozens of breweries scattered throughout downtown Phoenix, Gilbert, Tempe, and Chandler. If you'd like to gather a group of friends or coworkers for a day of beer tasting, Phoenix Charter Bus Company can serve as your DD. Give us a call at 480-445-9823 to book a charter bus with a professional driver, and check out these local breweries during your tour.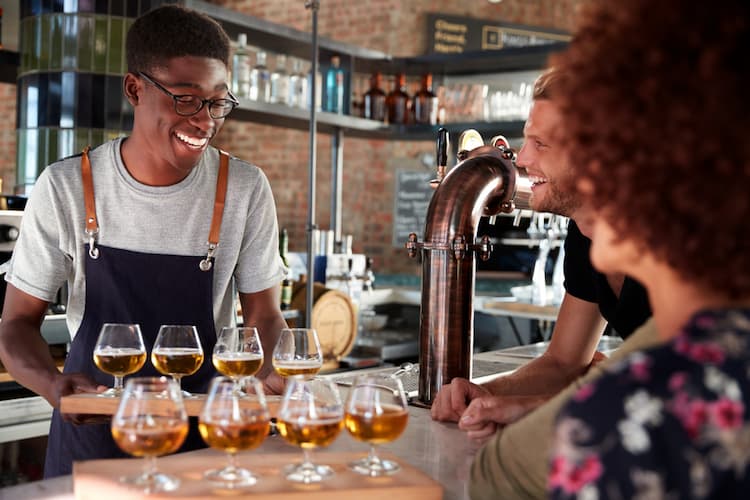 A Note on Safety
During social distancing, many of these breweries are only offering takeout services. Make sure you research individual breweries' policies before you go and follow any safety guidelines they have in place.
Wren House Brewing Co.
Situated inside a 1920s bungalow in the Green Gables neighborhood, Wren House Brewing Co. is known for its cozy taproom with old chairs and large wooden tables. It's also known for its technically impressive beers created by head brewer Preston Thoeny. Wren House uses malt and wheat grown in Arizona, and if you buy beer-to-go you'll see beautiful pictures of the Sonoran desert on many of the cans.
Wondering what to order? Wren House's signature brew, the Valley Beer American lager, is always worth a try. They also offer fruited sours called Las Frescas and the Black is Beautiful American Stout, created to raise money for the NAACP.
Address: 2125 N 24th St, Phoenix, AZ 85008
Charter bus parking: Wren House has a small parking lot, but it often fills up, so your charter bus may need to park along the street.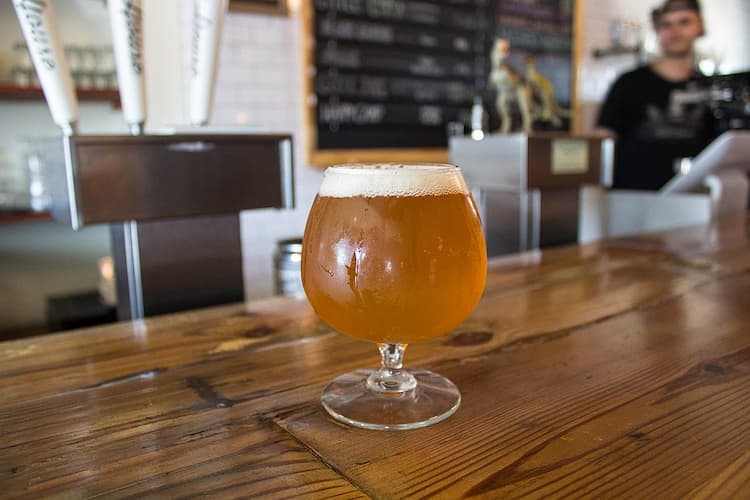 Happy Camp Double IPA at Wren House (Image credit: Wikimedia Commons)
Arizona Wilderness Brewing Company
When it opened in 2013, Arizona Wilderness was named the best new brewery in the world by Ratebeer.com. Though it receives less media hype now, it's still an incredible brewery known for its sour ales and Refuge IPA. Founders Jonathan Buford and Patrick Ware love to incorporate foraged ingredients, like blackberries, tree bark, seeds, and herbs, and they use locally grown grains and citrus.
Arizona Wilderness's brewpub in Gilbert serves a rich array of food as well as spontaneously fermented and barrel-aged brews. Try a burger made from grass-fed, Arizona-raised beef, and pair it with a beet and apple salad or duck-fat fries.
Address: 721 N Arizona Ave, Gilbert, AZ 85233
Charter bus parking: Arizona Wilderness has a parking lot, but it often fills up. Your bus driver can drop you off and head to a paid lot off-site if needed.
Huss Brewing Co.
One of the largest and most famous breweries in Arizona, Huss Brewing Co. was founded by married couple Jeff and Leah Huss. They also own the Papago Brewing and Arizona Light brands, and you can find their beer in grocery stores throughout the state. But to taste their brews fresh from the tap, you'll want to visit their taproom in Tempe or their restaurant in uptown Phoenix.
If you love fruity flavors, start with the iconic Papago Orange Blossom wheat beer. Kolsch fans won't want to miss the clear, hoppy Scottsdale Blonde and the Koffee Kolsch, which is brewed with freshly roasted caramel and hazelnut coffee beans. If your group visits the Phoenix location, you can order sausages, hot dogs, sliders, and flatbreads to complement your drinks.
Address: 100 E Camelback Rd #160, Phoenix, AZ 85012
Charter bus parking: Huss Brewing Co. has a large parking lot with plenty of space for your bus.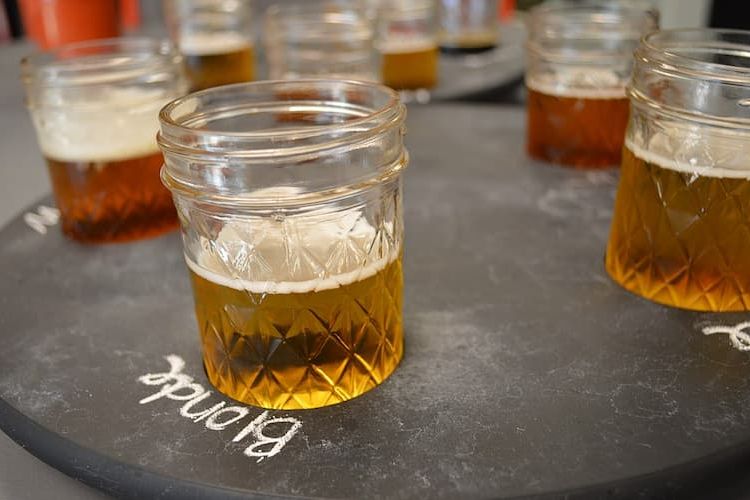 Scottsdale Blonde at Huss Brewing Co. (Image credit: Wikimedia Commons)
Four Peaks Brewing Co.
Four Peaks Brewing Co. kick-started the craft beer movement in Arizona when they began making their microbrews in 1996. They worked with the governor to ease laws around craft breweries before opening their taproom in Tempe inside a 125-year-old building. Since their early days, they've grown tremendously, and they now have three locations: one in Scottsdale, one in the airport, and the original one in Tempe, all serving food and beer.
The most popular Four Peaks beer is the Kilt Lifter, a Scottish ale that has claimed the title of best-selling craft beer in Arizona in the past. Ale fans will also love the Hop Knot IPA, Peach Ale, and 8th Street Pale Ale. If your Greek organization needs a ride from ASU to the Four Peaks taproom or the Four Peaks Oktoberfest celebration, Phoenix Charter Bus Company can provide a safe bus and a designated driver for you.
Address: 1340 E 8th St #104, Tempe, AZ 85281
Charter bus parking: Four Peaks has its own parking lot behind the brewery, but it often fills up, so your bus may need to park along the street.
O.H.S.O. Brewery
O.H.S.O. stands for Outrageous Homebrewer's Social Outpost, which should give you an idea of how much they prioritize people hanging out and having a good time. They boast 4 dog-friendly locations: 2 in Phoenix, 1 in Scottsdale, and 1 in Gilbert. The original Phoenix location offers brewing lessons, and at the Scottsdale location they distill vodka and gin as well as brewing beer.
All of O.H.S.O's locations are dog-friendly, include bike parking, and have around 40 taps of O.H.S.O. brews and guest beers. Try the Boom Dynamite, an American ale with mango flavors, or one of the barrel-aged ales from the Te Quiero Wood series. You can also order classic American dishes like chicken and waffles, brisket mac and cheese, and braised short ribs.
Address: 4900 E Indian School Rd, Phoenix, AZ 85018 (original location)
Charter bus parking: O.H.S.O. Brewery has its own parking lot where you can leave your motorcoach or minibus.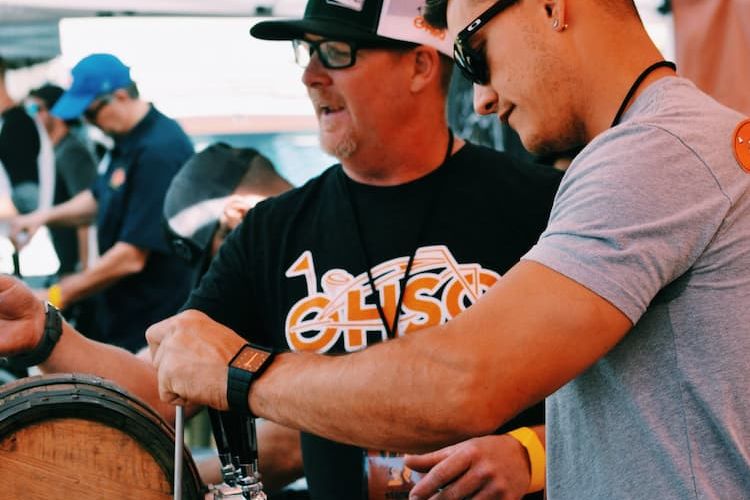 O.H.S.O. employees pouring beer outside (Image credit: Lauren Topor on Flickr)
Helton Brewing Co.
Brian Helton is a certified cicerone with decades of beer-making experience, but he only recently opened his own brewery and taproom in central Phoenix. Helton Brewing Co. focuses on classics, like a Scotch ale, an IPA, and a milk stout. Local favorites include the Valley Venom Pilsner and the tart, fruity Boysenberry Sour.
Helton Brewing Co. sometimes features live music by local bands in the outdoor "Beer Garage" and is always dog-friendly. In fact, they're so dog-friendly that they host yoga sessions called "Downward Dog for the Dogs" to raise money for the One Love Pit Bull Foundation. Helton also serves food, like soft pretzels, pulled-pork stuffed waffles, and bruschetta with goat cheese.
Address: 2144 E Indian School Rd, Phoenix, AZ 85016
Charter bus parking: Helton Brewing Co. has its own parking lot. If it fills up, your bus can park in other lots in the surrounding area.
Beer Research Institute
This taproom in Mesa has a science lab theme, with bright overhead lights and beers served in Erlenmeyer flasks. Owners Matt Trethewey and Greg Sorrels started brewing beer in 2003 and spent a decade perfecting their recipes before they opened this place in 2014. Although they mostly stick to classics like session IPAs and saisons, they've also been known to create Belgian blondes, coffee stouts, and mango-chamoy sours with tajin.
Food options at the Beer Research Institute include burgers made from Arizona beef, green chile mac and cheese, and candied bacon with Sriacha, which BRI calls "meat candy." If you're worried about getting from downtown Phoenix to Mesa, you can book a charter bus and enjoy air-conditioning and TVs during the ride.
Address: 1641 S Stapley Dr, Mesa, AZ 85204
Charter bus parking: The Beer Research Institute has its own large parking lot with plenty of spaces.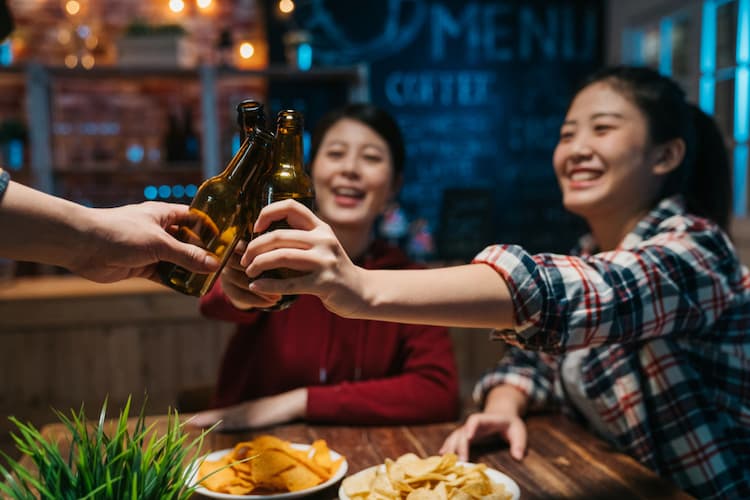 Greenwood Brewing
In an industry dominated by men, the woman-owned Greenwood Brewing Co. stands out. Founder Megan Greenwood established her company in 2019 on the principles of "Empowerment, Confidence, and Inclusivity." Your wedding guests or friends can visit this bright, airy taproom in the Roosevelt Row Arts District to try Herstory Brew Pale Ale, the brewery's signature flavor, or the strong Forward IPA.
In addition to their indoor taproom, Greenwood Brewing Co. has two outdoor beer gardens, and one of them welcomes dogs. Sit down with your furry friends and slowly sip a Pecan Nitro Porter or Essence Ale while you enjoy the Phoenix sunshine.
Address: 425 E Roosevelt St, Phoenix, AZ 85004
Charter bus parking: Greenwood Brewing mainly relies on street parking. If your bus driver can't find a spot, they can park in a paid lot.
Explore Phoenix's Best Breweries
Next time you want to sample craft beer in Arizona, give Phoenix Charter Bus Company a call. We offer air-conditioned buses with comfortable seats and professional drivers to take your group around Mesa, Gilbert, Tempe, and central Phoenix. Contact us today at 480-445-9823 to book transportation for your next brewery tour.
Do you need to rent a charter bus?