History Buff's Guide to Phoenix
Although the Phoenix area has been home to Native people for centuries, the city of Phoenix wasn't founded until 1881, and its oldest still-standing buildings only date to the 1890s and 1900s. That doesn't mean the city is devoid of history, though. In addition to several beautiful turn-of-the-century mansions, Phoenix has many museums that explore the history of both Native peoples and European settlers in Arizona. 
If you want to learn about the history of Phoenix with your students or tour group, Phoenix Charter Bus Company can help. Give us a call at 480-445-9823 to book an air-conditioned bus with plenty of legroom and a professional driver to take you to all of these historical destinations.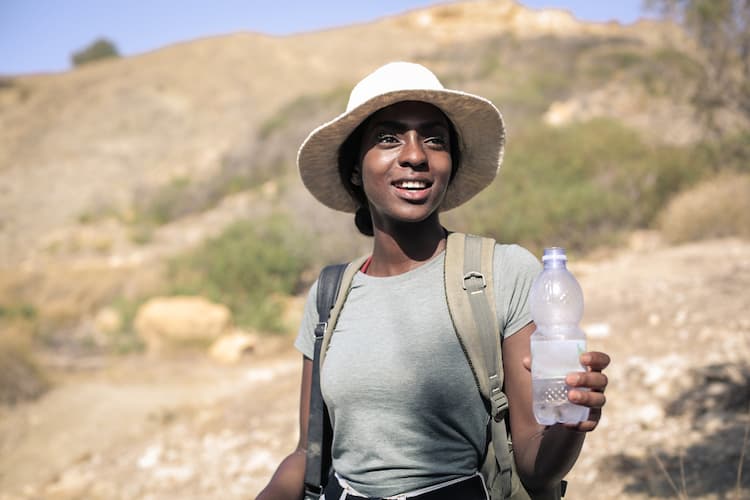 Rosson House Museum in Heritage Square
Heritage Square in downtown Phoenix is the oldest still-standing block of houses in the Valley. The most impressive of these historic homes is the Rosson House, which has been turned into a museum. Built in 1895, this Queen Anne-style home belonged to a local surgeon who later became mayor of Phoenix. If your group registers online for the $12 public guided tour, you'll see the house's original parquet floors and pressed-tin ceiling. You'll also get to snap photos of the ruby transom windows and "hidden" gib doors that let beds be rolled onto the balcony in the days before air-conditioning. 
Although private tours of the Rosson House have been suspended during social distancing, when they return you should be able to schedule field trips or private group tours for 8 or more people. You'll need to provide 2 weeks' notice and a $50 deposit to confirm your reservation, and you can schedule your private tour by calling 602-388-8090 or emailing sarah.matchette@heritagesquarephx.org. 
Address: 113 N 6th St, Phoenix, AZ 85004
Charter bus parking: Heritage Square has a parking garage, but since full-size charter buses probably won't fit, your driver will want to use a nearby surface lot.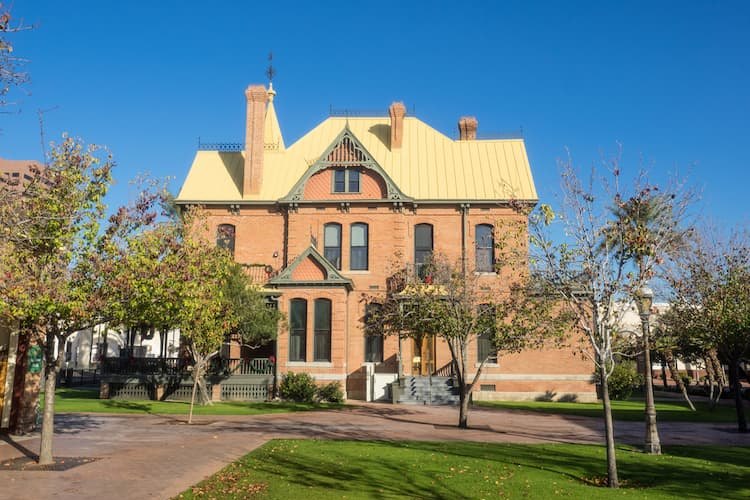 Wrigley Mansion
If you love historic houses, you won't want to miss this Mediterranean mansion on a hilltop commissioned by William Wrigley Jr. as a gift for his wife. The chewing gum magnate ordered the house in 1929 and it was completed in 1932, so it reflects many of the trends of the Roaring 20s as well as design influences from Spain, California, and Italy. 
House tours last 45-60 minutes, cost $17 per person, and are held on Tuesdays through Saturdays at 10, 11, and 12. Though the full house tour involves stairs, the mansion has two fine dining restaurants, Christopher and Geordie's, that are accessible by ramp. Geordie's also caters many business dinners and weddings, and the mansion has five private rooms that you can book for your celebration. 
Address: 2501 E Telawa Trail, Phoenix, AZ 85016
Charter bus parking: The Wrigley Mansion has its own parking lot where you can leave your bus.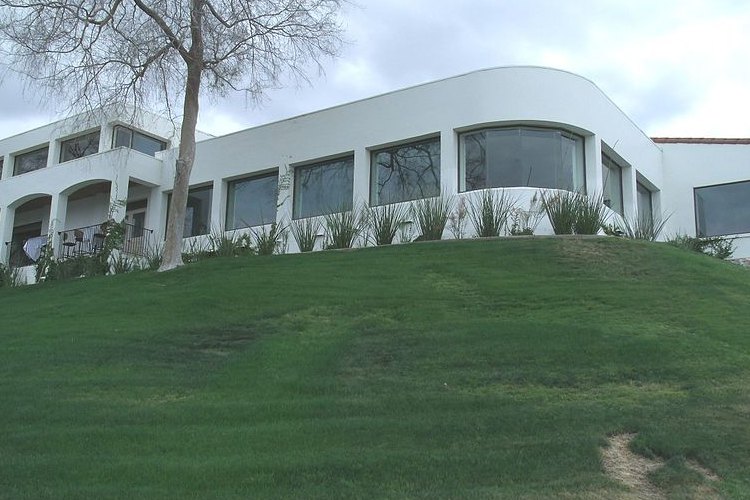 Image credit: Wikimedia Commons
Wesley Bolin Memorial Park
Located next door to the Arizona Capitol and Arizona Capitol Museum, Wesley Bolin Memorial Park is the premier place to see monuments in Phoenix. More than 30 different memorials lie here, including those for soldiers who fought in World War I, World War II, the Korean War, the Vietnam War, and Operation Desert Storm. Your group can also tour other important monuments like the Arizona 9/11 Memorial, the Dr. Martin Luther King Jr. Memorial, and the Navajo Codetalkers Memorial. 
One of Wesley Bolin Memorial Park's most-visited features is the display holding the original mast and anchor of the USS Arizona. This battleship was built shortly after Arizona became a state and served during World War I before being sent to Hawaii, where it sank during the attack on Pearl Harbor. Most of the ship still lies at the bottom of the Pacific, but Arizona received the right to display a few remaining pieces of it here. 
Address: 1700 W Washington St, Phoenix, AZ 85007
Charter bus parking: Wesley Bolin Memorial Park has plenty of free parking, making it a quick and easy stop for groups traveling via charter bus.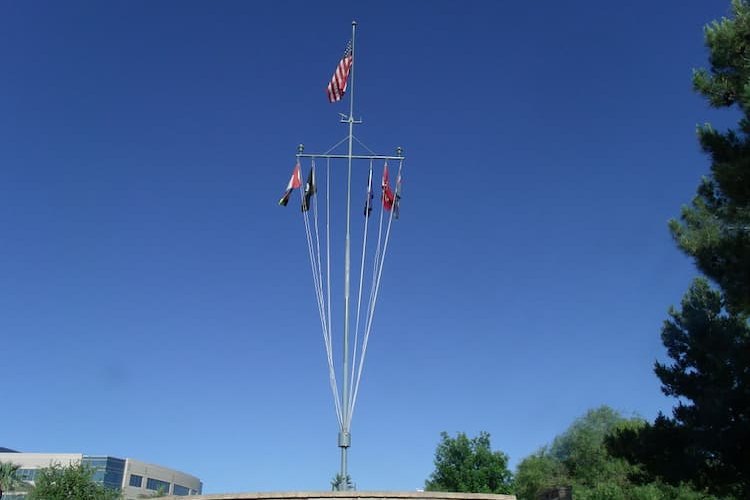 Image credit: Wikimedia Commons
Pueblo Grande Museum and Archaeological Park
1,500 years ago, the Hohokam people built a farming community in Southern Arizona and Mexico. Archaeologists today are still working to uncover the artifacts, art, and buildings they left behind. Pueblo Grande is a National Historic Landmark, a Phoenix Point of Pride, and the largest preserved archaeological site in the Phoenix area. 
When your group arrives, you'll follow a short, accessible trail to the partially excavated village with its original platform mound and ballcourt and several replicated houses. The indoor museum is closed during social distancing, but when it reopens you can see 3 galleries: a permanent collection of Hohokam artifacts, a children's gallery with hands-on archaeological activities, and a rotating gallery about historical cultures of the Southwest. You can enter the museum for $6 per adult and $3 per child (ages 6-17). Kids under 6 are free. 
Address: 4619 E Washington St, Phoenix, AZ 85034
Charter bus parking: Pueblo Grande has a parking lot on the northwest corner of the grounds where paying visitors can park for free.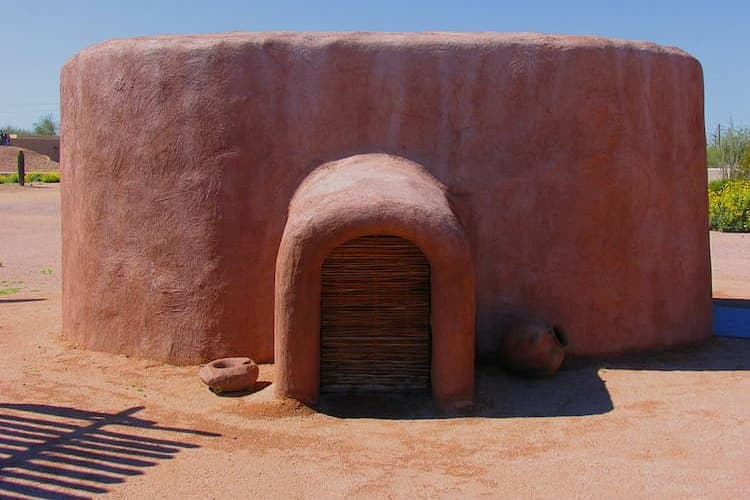 Image credit: Wikimedia Commons
Taliesin West
Frank Lloyd Wright's winter home, Taliesin West, lies in the foothills of the McDowell Mountains in Scottsdale. Wright and his apprentices built this home by hand using local materials. Today, it's a UNESCO World Heritage Center and National Historic Landmark that houses the Frank Lloyd Wright Foundation and the Frank Lloyd Wright School of Architecture. This beautiful 1937 house also runs a variety of tours for groups. 
"Guided by Wright" is a free audio tour where you listen to recordings of Wright's own voice while you explore the house. The "Insights Tour," on the other hand, is led by a professional guide and must be booked online in advance. This tour takes approximately an hour and includes Wright's private quarters as well as his Garden Room, Drafting Studio, Music Pavilion, and Cabaret. "Insights" costs $40 per adult, $30 per student (13-25 with a student ID), and $19 per youth (ages 6-12). For $10 more, adults can book the Wine & Wright Tour, which includes a complimentary drink before your guided tour and is only held on Friday evenings at 5, 5:30, and 6 p.m. 
Taliesin West has taken steps to be more accessible, including adding ramps, but the area still has gravel walkways and uneven surfaces. Deaf or hard of hearing guests can pick up a printed guide book and bring along an ASL interpreter, and guides for blind visitors are admitted free of charge. Certified service animals and all mobility devices are also welcome. 
Address: 12621 N Frank Lloyd Wright Blvd, Scottsdale, AZ 85259
Charter bus parking: Taliesin West has its own parking lot where you can leave your bus.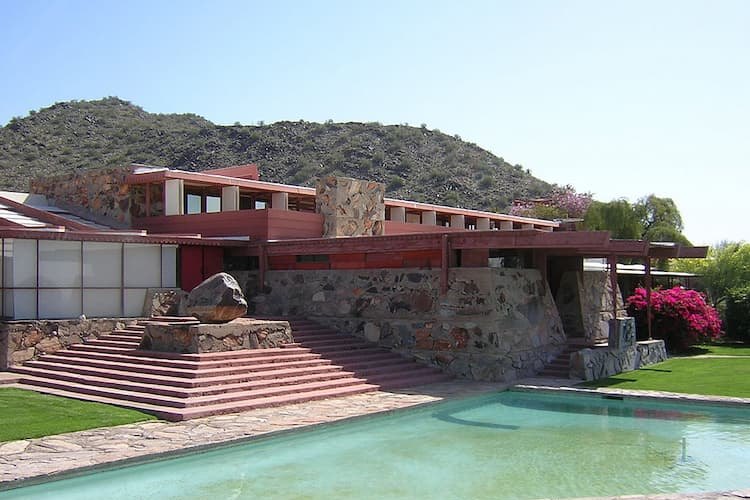 Image credit: Wikimedia Commons
Heard Museum
Originally opened in 1929 to showcase the Heard family's private collection of American Indian art, the Heard has since expanded its mission by connecting with Indigenous people across the U.S. and asking them to directly share their stories and culture. The themed, often interactive exhibits include historic implements as well as modern-day art and stories. 
Two of the most popular exhibits are "Away from Home," where Native people who were forcibly taken to boarding schools share their stories, and "HOME," where people from many Southwest tribes talk about what the word "home" means to them. Other popular displays include a Navajo hogan, a Pueblo horno, and more than 400 Hopi katsina dolls. 
Adults can buy tickets to the Heard online for $17, while children or students only pay $9. Native people can visit the Heard for free with a Tribal ID. Although guided tours are suspended as of spring 2021, when they return you can book a school tour at education@heard.org or a private group tour at privategrouptours@heard.org. 
Address: 2301 N Central Ave, Phoenix, AZ 85004
Charter bus parking: The museum has free on-site parking.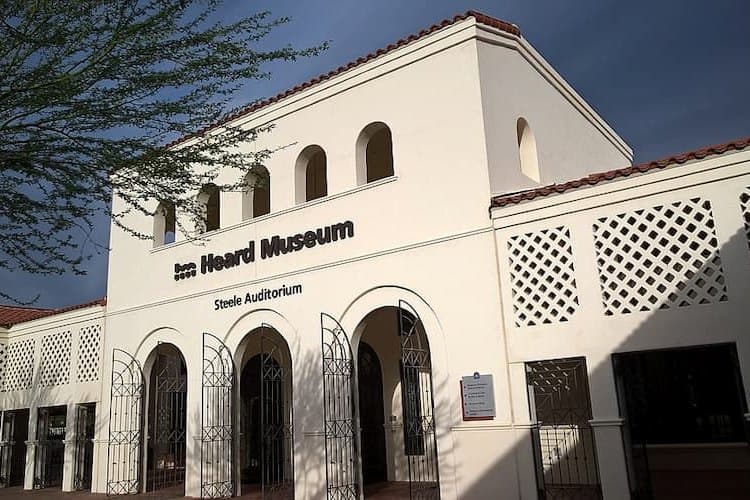 Image credit: Wikimedia Commons
Learn About Phoenix's History with a Charter Bus Tour
Whether you want to learn about the Native people of the Southwest at the Heard Museum or see Victorian homes in Heritage Square, Phoenix is a great place to explore history. Call Phoenix Charter Bus Company at 480-445-9823 to book a cool, clean bus with a professional driver for your next trip around the Southwest.
Do you need to rent a charter bus?