A Beginner's Guide to Phoenix
Planning to visit Phoenix for the first time?
First of all, great choice! As an underrated hub for culture and a getaway destination for groups of all kinds, this oasis city in the U.S. Southwest has a lot to offer for first-time visitors. In fact, with so much to fill your itinerary here, the hardest part will be narrowing down your list of must-see attractions!
Not to worry—Phoenix Charter Bus Company has put together this beginner's guide to visiting Phoenix so planning your first-time trip to the city can be a breeze. Keep reading to learn more about the ins and outs of The Valley of the Sun:
Getting Around Phoenix
The fact that Phoenix is so far-flung from most major cities is both a blessing and a curse. On one hand, the city is a fantastic getaway spot and offers access to some of the most remote natural landscapes in the U.S. On the other hand, its distance from other major cities means getting to and from Phoenix can be an endeavor—so a solid transportation plan is a must.
Here are two of the most popular ways groups arrive at and leave Phoenix:
Airport
Flying into Phoenix is relatively straightforward, considering there are only two airports that service the surrounding area. Whether your group chooses Sky Harbor or the Phoenix-Mesa Gateway, your group will have your choice of most major domestic airlines and plenty of eateries and amenities to keep everyone comfy while they wait at the gate.
As for getting to and from the airport…well, that can be the tedious part. Sky Harbor is the city's most popular air hub and is only four miles from the city center. And while it is serviced by taxis and the Valley Metro Rail, the typical cab fare can be $15 to $20 per ride—which is not ideal if you're traveling with a group and will need to hail multiple rides. A one-way ticket downtown aboard Valley Metro Rail is only $2, but navigating a new public transit system at the start of your first-time Phoenix trip without getting lost or separated can be a challenge.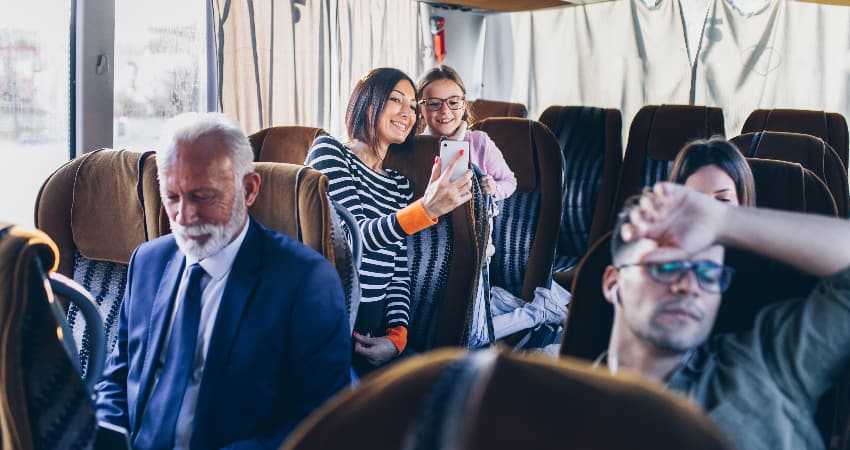 Road Trip
What better way to take in the gorgeous Arizona landscape than by taking a road trip from Los Angeles, Las Vegas, or another nearby city? When you book a bus through Phoenix Charter Bus Company, you and your group can take in the sights along the way without having to cram into your personal vehicles, arrange a carpool, or play "Trunk Tetris" to fit everyone's luggage. Instead, a professional driver will handle all the driving and parking logistics—so your passengers can relax and enjoy onboard comforts like movies playing over the DVD  players and TVs, their favorite podcasts streaming over free WiFi, and the beautiful sights of Arizona rolling past panoramic windows.
Call 480-445-9823 today to learn more about the minibus and charter bus rentals available for your Phoenix group trip. Our team is available 24/7 to help you hash out the details and offer you a free, no-obligation quote tailored to your itinerary!
Top Phoenix Attractions for…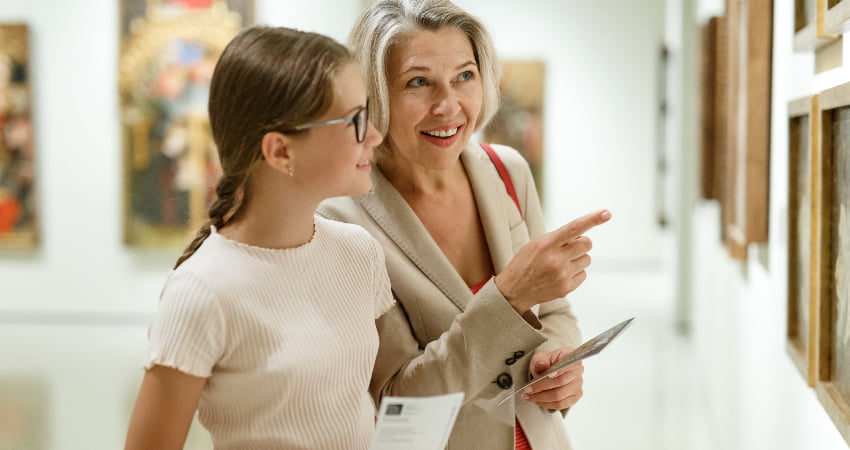 Art Lovers and Culture Trippers
Whether you're treating your relatives to some fun times after your family reunion or looking for stops to fill your itinerary after a tour of the city's best breweries and foodie haunts, Phoenix's art scene will not disappoint:
Roosevelt Row
Address: 918 N 2nd St, Phoenix, AZ 85004
When folks refer to Phoenix's art district, this is the place there's talking about! Besides being extremely walkable, this art haven is one of the most accessible art districts in the country thanks to the large collection of public art visible for free! After stopping by the welcome center, roam the district and check out the murals and street art around every corner and take some time to pop into a few galleries and see some of the Southwest's most promising talent.
Phoenix Art Museum
Address: 1625 N Central Ave, Phoenix, AZ 85004
From the Renaissance period and famous Monet paintings to Latin American abstractionism and works by Frida Kahlo, this museum is home to the region's largest collection of classic and contemporary art. The museum offers free admission every Wednesday from 3 p.m. to 7 p.m. and the first Friday of the month from 3 p.m. to 7 p.m. Self-guided groups of 10 or more patrons can receive discounted admission by calling 602-307-2090 ahead of their visit.
Sports Fans
Popping into Glendale for the Fiesta Bowl? Taking your youth team to a regional tournament? There are many reasons why you'd want to visit Phoenix with sports fans! Here are some of the basics to Phoenix's most popular sporting venues, so your game day can go off without a hitch:
Chase Field
Address: 401 E Jefferson St, Phoenix, AZ 85004
Home to: The Diamondbacks
Welcome to one of the most tech-savvy ballparks in the Major Leagues! Not only does the retractable roof make this stadium one of the most comfortable ones to enjoy a baseball game in, but Chase Field also prides itself in being price-accessible to the average baseball fan. Groups of 15 or more spectators can receive discounted admission and complimentary tickets when you call 602-462-4600 to book tickets. (Contacting that phone number is also the best way to hash out parking your charter bus near the stadium.)
State Farm Stadium
Address: 1 Cardinals Dr, Glendale, AZ 85305
Home to: The Cardinals
This multi-purpose field is home turf for Arizona's official NFL team, yes, but you may also find yourself here if you're in town for college football championships, some international soccer matches, or even a concert.
Especially during popular game days, officials recommend arriving at the stadium parking lots at least 3 or 4 hours before kick-off. This will allow you to miss most of the pre-game traffic jams—and also give your group plenty of time to tailgate! When you rent a bus through Phoenix Charter Bus Company, our reps can connect you with the perfect ride to stash all your coolers, tents, and tailgate gear while en route, as well as onboard amenities like a restroom and WiFi to make your grill-out even more enjoyable.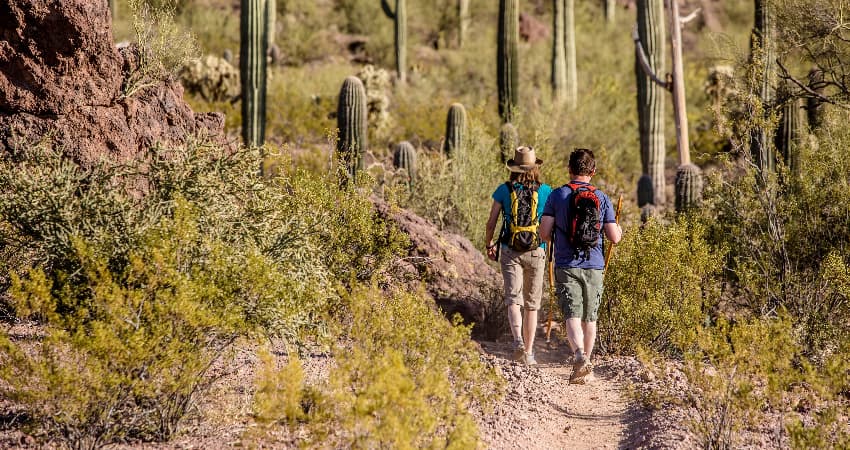 Outdoor Adventurers
As we said, Phoenix is a great launch point for all kinds of outdoor excursions throughout the Southwest. Whether you're venturing out to the Grand Canyon for a multi-day hike through the U.S.'s top natural wonder or planning to explore Phoenix's easier hikes with your field trip class or scout troop, there is no shortage of hiking trails, kayak launch points, and rock climbing challenges to keep your outdoor adventurers entertained.
Before you head out, there are a few things first-time visitors should know if you want to enjoy the outdoors in Phoenix:
Check the weather forecast. Yes, it's a "dry heat," but the desert swelter is no joke. On hot days, consider hitting the trail in the early morning or mid-evening to avoid the worst of the heat. Some of Phoenix's parks are open until 11 p.m. for this reason!
Bring more water than you need. A good rule of thumb is to bring at least one liter of water for every hour you'll be outside. Turn around and head back to the trailhead once you've consumed half of your water.
There's safety in numbers. If you can help it, stay away from solo hikes or mountaineering trips to ensure your safety. Besides, the outdoors are better when shared with your friends!
Ease Your First-Time Phoenix Trip with a Bus Rental
Now that you know the basics of what to expect and what you want to see, all that's left to do is hash out the details! That's where Phoenix Charter Bus Company can help—our 24/7 reservation team can help you figure out all the transportation logistics for your Phoenix group trip, so everyone has a reliable ride to every stop on your schedule. With a professional charter bus driver on your side and the ideal motorcoach to suit your group's needs, everyone can focus on making the most of your first-time Phoenix adventures.
Call 480-445-9823 to get started. We can provide you with a personalized, no-obligation quote for your Phoenix bus rental within minutes!
Do you need to rent a charter bus?