Sports Fans' Guide to Phoenix
If you're traveling with a group of sports enthusiasts in the Southwest, Phoenix is likely already in your sights! Not only is the city full of culture and luxury lodging accommodations, but it's also home to all four American major leagues and plenty of other ways to be active in the great outdoors—golfing and outdoor recreation, just to name a couple.
Not sure how to make the most of your sports fans' time in Phoenix? Not to worry—Phoenix Charter Bus Company has put together this guide so your group can expect smooth sailing throughout the Valley of the Sun. Keep reading to learn how to make your Phoenix sporting event as easy as possible.
Group Transportation For Phoenix Sports Fans
When it comes to catching your favorite teams on their home turf, there are three major areas where Phoenix's sports venues are concentrated: Downtown, the suburb of Glendale, and the town of Tempe. This means if you're staying somewhere centrally located, odds are your group will need a reliable transportation plan to get to the action outside of Phoenix's city center.
Enter: Phoenix Charter Bus Company. We have years of experience providing custom itineraries for all sorts of travel groups in the area. So whether you're planning a big tailgate for an Arizona State University game or a quick out-and-back stadium shuttle with your Diamondback fan group, we have the network and know-how to make it happen. Just say the word, and we'll connect you to the ideal full-sized charter bus rental or compact minibus shuttle to suit your group's size and itinerary—all on a schedule you set! Get in touch today by calling 480-445-9823, and our 24/7 reservation team will be happy to provide a fast and free bus rental quote with no obligation to book.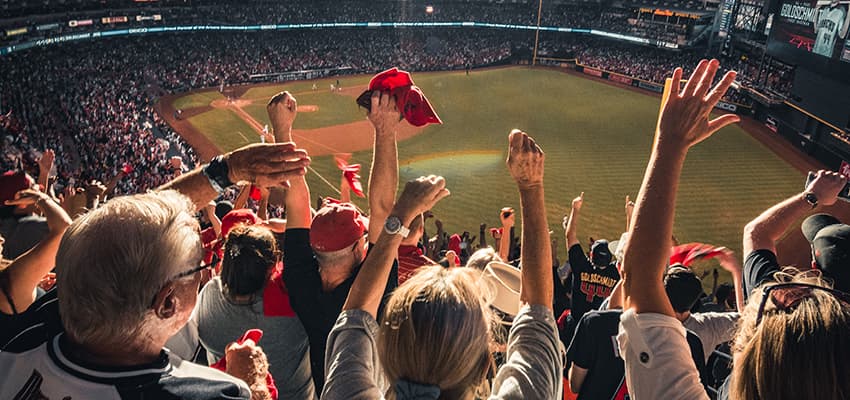 Arizona Diamondbacks Baseball
When you come to see the Diamondbacks play in Phoenix, you'll be treated to an afternoon or evening in one of the MLB's most innovative stadiums: Chase Field. It was the first in the league to feature a retractable roof and full air-conditioning (a necessity in the sweltering desert heat). Whether your baseball fans have booked the premium poolside suite for an event or snagged seats in one of the tallest MLB seating decks for a bird's eye view, your Phoenix game day is sure to be a memorable one.
Besides catching a game, visitors can book a private event rental or a Chase Field stadium tour when the Diamondbacks aren't playing. Groups of 25 or more can expect discounted tour and game admission when booked two weeks in advance, so plan ahead if your fan group is interested in exploring this futuristic stadium with a dedicated tour guide.
Chase Field
Address: 401 E Jefferson St, Phoenix, AZ 85004
MLB Cactus League Spring Training
Sure, the Diamondbacks bring tons of baseball fans to Phoenix, but there's one annual event that brings folks in from as far as Chicago and Seattle to see their favorite teams: spring training! Between late February and March, Phoenix hosts the Cactus League Spring Training games and gives the region's baseball fans a sneak preview of their favorite teams before the season begins. There are over 200 games spread across 10 venues throughout the Phoenix metropolitan area—so plan your visit wisely to watch your favorite West Coast teams face off.
Charter Bus Rental Tip: The Cactus League Spring Training Venues are located relatively close together—no two ballparks are more than a 45-minute drive apart—but having a solid game plan will ensure your fan group makes the most of the preseason games. Map out exactly which games your group wants to see during your stay in Phoenix and let a professional charter bus driver handle the logistics for you. With your passengers' minds on the game and not the traffic, everyone can enjoy spring training free from stress.
Phoenix Suns and Phoenix Mercury Basketball
You might know the stadium by another name (America West Arena, US Airways Center, Talking Stick Resort Arena, or Phoenix Suns Arena) but one thing is certain about Phoenix's Footprint Center—it's the place to be if you're a basketball fan. Both the Suns of the NBA and the Mercury of the WNBA call the center home. but you can also catch local soccer matches, boxing tournaments, and MMA events in this spacious indoor arena. Contact the venue about group ticketing packages to lock in a discounted admission rate, personalized swag, and free bus rental parking.
Footprint Center
Address: 201 E Jefferson St, Phoenix, AZ 85004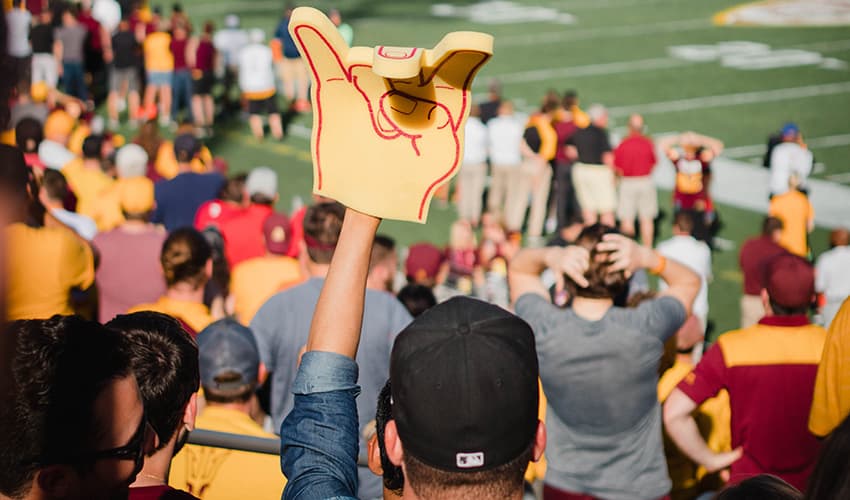 Phoenix for Football Fans
Whether you're a Cardinals fan group gearing up for a game day, an ASU alumni crowd bound for Sun Devil Stadium, or a collegiate team renting a charter bus to the Fiesta Bowl in Glendale, Phoenix has something for every football fan.
State Farm Stadium is not only home to the Arizona Cardinals, but one of the most highly-anticipated college football bowls in the region: the Fiesta Bowl. Don't anticipate attending a daytime game before September—there's no roof or stadium-wide AC, so the Cardinals often schedule early-season away games or evening matches until the summer heat ebbs. This stadium is often lauded for its spacious 70,000-seat capacity that doesn't feel too crowded when you're in the thick of it, so your group will have minimal worries about fellow fan groups breathing down your neck come game day.
Old-school football fans might also want to stop by Sun Devil Stadium—now home to the Arizona State Sun Devils, but once  the Cardinals' home turf and the battleground of many memorable NFL games between the 1980s and the mid-2000s. Thanks to some renovations that wrapped up in 2017, your fan group's experience in this iconic and beloved stadium is sure to be more comfortable than you remember.
State Farm Stadium
Address: 1 Cardinals Dr, Glendale, AZ 85305
Sun Devil Stadium
Address: 500 E Veterans Way, Tempe, AZ 85287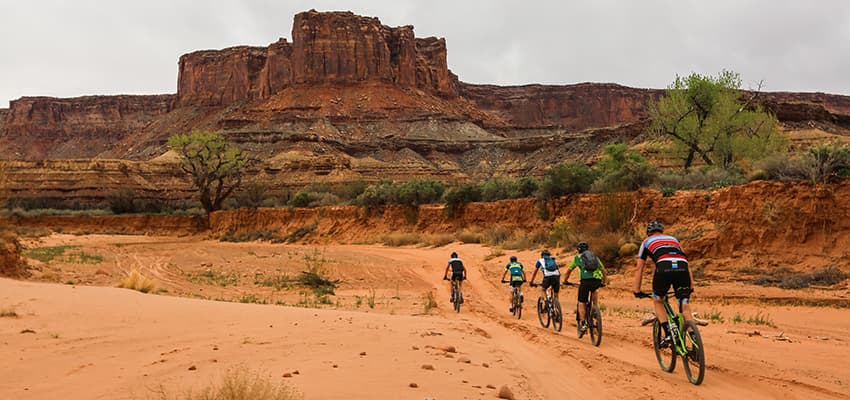 Phoenix Outdoor Recreation
Even if your group isn't into organized sports leagues, Phoenix is one of the best locales in the Southwest to explore the great outdoors. We've already covered a lot of Phoenix's best spots for outdoor recreation on our blog, but here are the broad strokes your hikers, bikers, and climbers should keep in mind:
Always bring more water than you expect you'll need. It's better to have too much than to run out before you've finished your excursion. As a rule of thumb, bring at least one liter of water for every hour you'll be outside.
Dress in layers. Phoenix may be known for its "dry heat," but temperatures can get pretty chilly in the early mornings and as the sun sets.
Despite the city's reputation as a haven for dedicated outdoor enthusiasts, there are plenty of easy and accessible hiking trails and outdoor spaces in Phoenix. Take your class field trip or scout troop outing to the likes of Judith Tunnell Accessible Trail in South Mountain Park or the Big Butte Loop Trail in Papago Park for a beginner-friendly hike in nature.
Explore Phoenix Sporting Events by Charter Bus
Locked in your game day itinerary? Rounded up your favorite sports fans? All that's left is to book your group transportation services in Phoenix!
The Phoenix Charter Bus Company team is available around the clock to assist you with every aspect of your bus rental plans—from selecting the perfect charter bus or minibus rental for the job to securing personalized bus rental pricing tailored to your transportation needs. Call 480-445-9823 today and see how simple it is to rent a bus in Phoenix.
Do you need to rent a charter bus?