Guide to Visiting the Grand Canyon with a Group
Grand Canyon National Park's breathtaking views and mind-boggling depths (a mile deep in some spots!) draw nearly 6 million visitors every year, making it the second-most-visited national park in the United States. Considering how crowded this ancient landmark gets during peak tourist seasons, any group that wants to visit the Grand Canyon should have a clear gameplan before entering the park.
Need help getting to or moving around Grand Canyon National Park? Consider Phoenix Charter Bus Company your go-to for stress-free group transportation. We specialize in custom bus rentals that are personalized to your itinerary and group size, so your Grand Canyon visitors will always have the perfect ride waiting for them after they've taken it all in!
Call 480-445-9823 at any time and our 24/7 reservation team will be happy to help you hash out the travel details.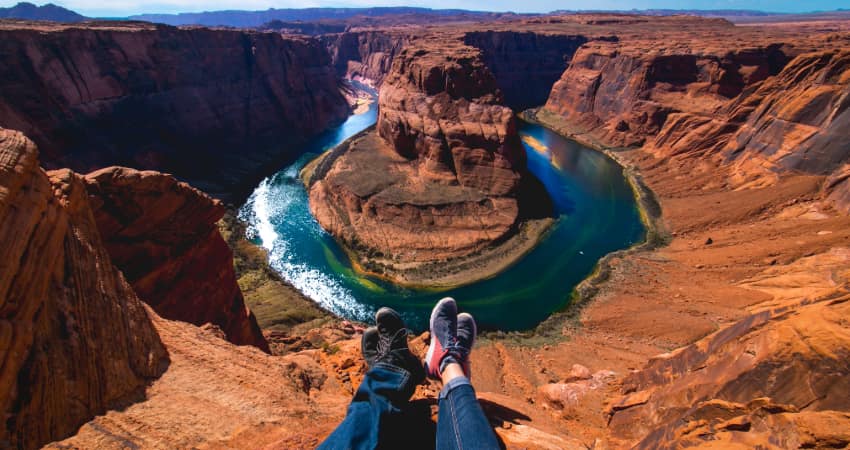 COVID-19 Precautions
If you're planning your visit while social distancing precautions are still in effect, both Grand Canyon National Park and Phoenix Charter Bus Company will be taking extra steps to ensure your safety.
What you can expect from us:
While group travel is not advised at this time, we are still booking trips and will do what we can to ensure your Grand Canyon excursion runs smoothly. Your established group of friends and family, people you work with, or learning pod will have a clean and well-ventilated bus rental, and your driver will always wear proper PPE and enforce the safety measures you want aboard. From staggered seating for on-the-road distancing to hand sanitizer stations throughout the vehicle, we'll work with you so everyone can ride in comfort.
What you can expect in Grand Canyon National Park:
While the Grand Canyon is open to visitors, some entrance gates, visitor facilities, and campgrounds in the reservations surrounding the park are closed due to lockdown regulations. In addition, guests over the age of 2 must wear a face mask in the following locations:
anywhere indoors on national park property
all entrance stations
all shuttle bus stops
lookout points where social distancing is not practical, like Mather Point, Hopi Point, and the Greenway Trail
Before you embark, keep an eye on the park's public health updates to see if your bucket-list Grand Canyon destinations are still safe and open to visitors.
Frequently Asked Questions About Visiting the Grand Canyon
How hot does it get in the canyon?
Bringing a hiking group or rafting team down into the canyon? Be prepared for unpredictable weather, thanks to the canyon's unique shape. Temperatures can range between 45°F and 104°F, even on the same day!
Most tourists, however, observe the canyon from lookouts and visitor centers along the canyon's top, called the rim. Up here, you can generally expect stronger winds and cooler temperatures—as low as 19°F in winter and as high as the mid-80s in summer.
When should we visit the Grand Canyon?
To avoid the worst of the summer crowds and sweltering heat, seasoned Grand Canyon visitors recommend planning your trip in either spring or fall. Sparser tourist crowds mean better availability and rates at local lodgings, and the milder temperatures make for safer outdoor excursions with slimmer chances for heatstroke.
If your group doesn't mind the cold, though, visiting the Grand Canyon in the winter and seeing the rock formations frosted with snow may also be an unforgettable experience. Just keep in mind that while the South Rim stays open all year-round, the North Rim closes to the public after the first heavy snowfall of the year.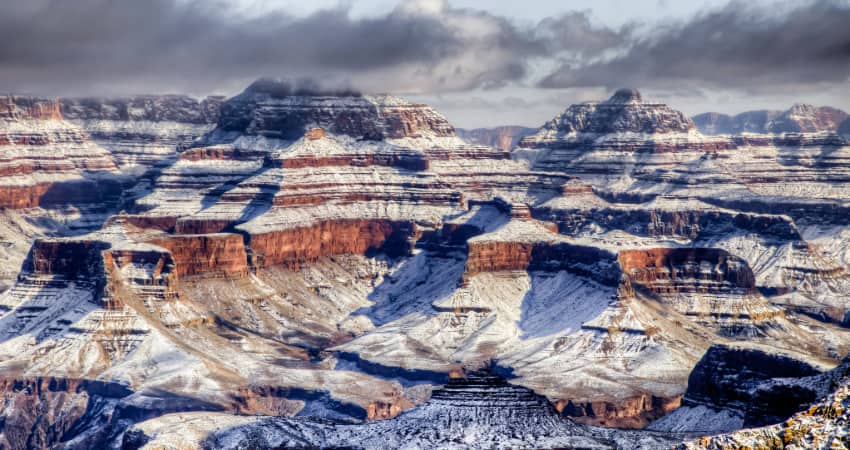 Which part should we visit: North Rim or South Rim?
It depends! On one hand, the South Rim is one of the most-visited national park areas in the country, drawing 90% of the Grand Canyon's annual visitors. While pushing through crowds just to get a good look at the canyon may not be for everyone, the South Rim offers the most views and many more visitor resources than the North Rim. From ranger tours, historic pioneer villages, and geology museums to dizzying views 2,000 feet down to the Colorado River, the South Rim is perfect for first-time visitors who want the iconic Grand Canyon experience. Also, some might say this side of the canyon is more group-friendly, thanks to the dedicated commercial bus lot located near the visitor center.
That being said, the North Rim of the Grand Canyon is better suited for returning visitors, or those who enjoy some peace and quiet. This rim is a full 1,000 feet higher in altitude than its southern sister, which means it's always about 10° cooler here. The difference in altitude also allows a wider range of plant species to survive on the North Rim—so you'll see a lot more greenery than you'd expect from a desert canyon climate! As for parking your bus rental, the North Rim visitor center does oversized vehicle parking, but you'll need to share it with visitors arriving with RVs and trailers.
How long should we plan to visit?
If visiting the Grand Canyon is a line item on a larger road trip, we recommend planning to spend at least half a day looking around. That should give your group plenty of time to see all the major vistas or ride along Desert View Drive, taking in the views from your charter bus rental's plush seats and panoramic windows.
If your group wants to actually hike down into the canyon, though, you'll need more time. Excursions into the canyon can last anywhere from a day to 19 days (depending on your group's fitness level and the outfitter you choose). That being said, many folks spread their visit across two days: one day to explore the museums, visitor centers, and historic village at the rim, and another day to hike a few miles into the canyon and return before dusk.
Do we need to book a guided tour?
As one of the most popular outdoor destinations in the United States, the Grand Canyon offers a wide variety of ways to tour the national park—bus tours, ranger-led hikes, mule caravans, helicopter tours, rafting excursions, you name it.
But you don't need to book a guided tour to learn more about the Grand Canyon while you're there. Both the North and South Rim offer visitors plenty of free resources, maps, and pieces of hiking advice for groups. Your entrance fee into the park also covers admission to the South Rim's museums—so take advantage of them! Check out art of the canyon at the historic Kolb Studio (a former photography studio for tourists in the 1900s!) or stop by the Yavapai Geology Museum to learn how the canyon was created due to eons of erosion.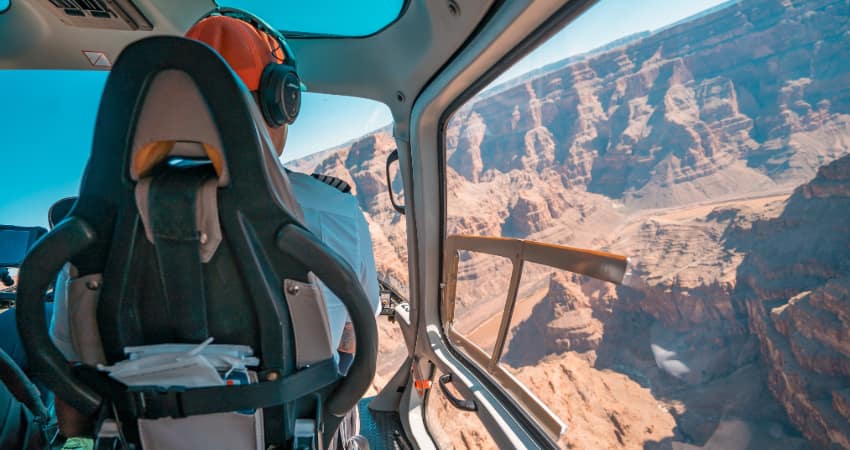 Staying at the Grand Canyon
Groups who want to spend multiple days visiting the Grand Canyon will find many places to rest their heads. The cheapest lodgings are usually located outside of park grounds, but if your group has your heart set on spending the night within Grand Canyon National Park, you have a few options:
Lodges and Hotels
The Grand Canyon National Parks Lodges system is composed of 4 lodges and one hotel positioned on the South Rim, and Phantom Lodge at the bottom of the canyon. Visiting groups can book blocks of 10 or more rooms in Maswik Lodge, Thunderbird Lodge, and Kachina Lodge—all historic buildings located within the Grand Canyon Village. Besides a potential discount (depending on the season), groups staying at these lodges can coordinate excursions and catering with the lodges themselves.
Keep in mind that if you're planning an overnight trip that involves a charter bus rental, you'll need to cover your bus driver's room and board, and your driver is required to take an 8-hour break for every 10 continuous hours behind the wheel. Call 1-800-843-8723 to see if your lodge will provide discounted rates for your driver and to secure bus parking.
Maswik Lodge
Address: 202 Village Loop Drive, Grand Canyon Village, AZ 86023
Phone: 928-638-2631
Thunderbird Lodge
Address: 10 Albright Ave, Grand Canyon Village, AZ 86023
Phone: 888-297-2757
Kachina Lodge
Address: 5 Village Loop Drive, Grand Canyon Village, AZ 86023
Phone: 888-297-2757
Group Camping
While there are many campgrounds in the park, groups who want to camp together must reserve a group campsite at either the North Rim Campground or Mathers Campground on the South Rim. Oversized vehicles like charter buses and minibuses are often allowed to park in RV spots at campgrounds, but call ahead to your site of choice to ensure your bus rental is allowed to stay there overnight.
North Rim Campground
Offers 3 group sites, each with a capacity of 25 people and 3 vehicles per site. Open May through October.
Address: Grand Canyon National Park, National Pike, Grand Canyon Village, AZ 86023
Mathers Campground
Offers 7 group sites, each with a capacity of 50 people and 3 vehicles per site. Open March through November.
Address: 1 Mather Campground Rd, Grand Canyon Village, AZ 86023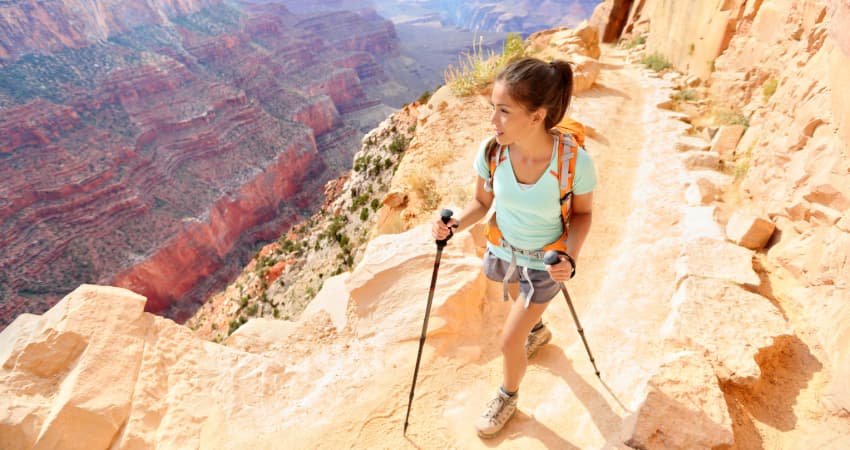 Reserve Your Grand Canyon Bus Rental
Whenever you're ready to visit, the Phoenix Charter Bus Company team is ready to help make your group trip as smooth as possible. Rather than carpooling or putting miles on multiple rental cars, rent a bus to the Grand Canyon for a more comfortable experience! With a professional driver handling all the navigation and driving, your canyon visitors can sit back and enjoy amenities like crisp AC, TV screens and a DVD player for movie marathons, and reclining seats for mid-trip naps. Call 480-445-9823 today for a free, no-obligation quote that's personalized to your Grand Canyon bus rental needs!
Do you need to rent a charter bus?